What we do ?
BA Romines Sheet Metal provides fabrication of sheet metal in various metals including stainless steel and aluminum. Along with custom fabrication services we also provide installation services. We have fabricated and installed product conveyor systems, commercial heating and cooling systems, exhaust systems, custom hand railings, custom cabinets, custom metal counter tops, copper roof caps, conveyor systems, custom stainless steel boxes, custom stainless steel accessories, and dust collection systems and air duct cleaning systems.

We are a highly skilled, well trained, Local 20 sheet metal union company that hires Sheet Metal Workers' International Association (SMWIA) employees who are trained technicians that hit the job running!
Our mission is to exceed our customers expectations!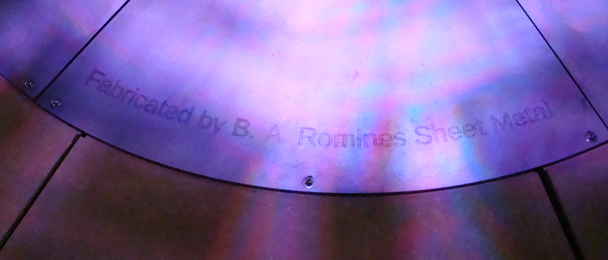 Professional Capabilities
•All forms of metal fabrication
•Stainless steel for food service
•Stainless steel tables & racks
•Stainless steel stairways & platforms
•Stainless steel components
•Stainless steel & galvanized piping
•Custom counter tops
•Conveyor systems
•Heat recovery & exhaust systems
•Machine guards
•Water jet cutting & laser cutting
Professional Facility Cleaning
•Duct Cleaning
•Dust Collector Installation
•Coil Line Duct Fabrication
•Boiler breechings & stacks
•Clean room installations
•Control & equipment panels
•Tanks, vants & parts washers
•Architectural sheet metal
As an added service for our customers we offer industrial cleaning and combustible dust removal. We use safe, explosion proof equipment to ensure safe removal of most types of dry particules. We adhere to all OSHA standards for combustible dust removal.
Contact Frank Parr for additional information and a free no obligation quote at 260-657-5500.
From
Start

to

Finish

We serve your every need!